Ya, you read that right, so stop squinting.
On Warren Shaw's WCAP program, this morning, Rita didn't even flinch when asked about the current tax rate. She stated clearly that Lowell's tax rates are in line with the services Lowellian's receive. Later, in a response to a caller, Warren Shaw advised the caller that Lowell has lower rates than the surrounding suburbs.
It was bold of Rita to hold the line and stand up for the repair work the CM is performing on our City's fiscal health.

I bet you are starting to get sick of seeing this graph: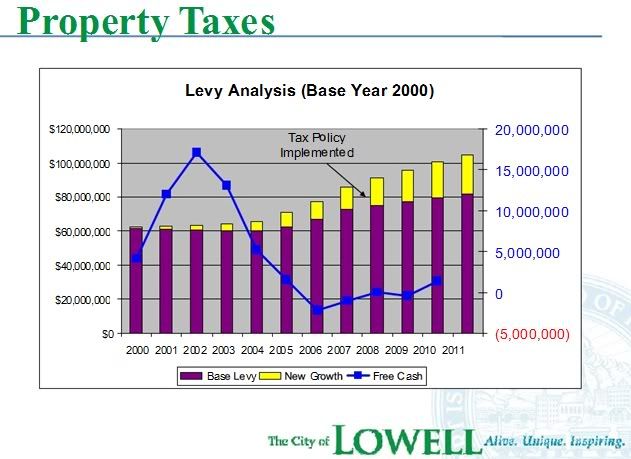 But what is plain, as day, is that from 2000-2005 taxes were kept artificially low and the cost of goverment was borne by the city's Free Cash, or "rainy day fund." The economy didn't tank until 2007. Yet, by 2006, Lowell had a negative free cash balance.
We can argue about "the cost of government" and whether we are getting rooked by city unions and fat cat admins. That is an arguement that should be had. I believe that there are efficiencies to be found.
But what is ticking me off, is the several city council candidates running around using Grover Norquist, tea party, "NH Advantage," "read my lips," like pledges for NO NEW TAXES!!!!! This is bogus pandering to a distressed electorate.
There is no free lunch, folks.
Rita mentioned the hollow campaign rhetoric , as well. She noted that it is easy to say such things, as "we spend too much," not having to face the realities of governing and the effects of draconian cost cuts. She was clear that no one likes taxes and no councilor wants to raise them, but only so much can be done. Further, the Council has done well, with this CM, to mitigate the damage done by a weak economy and a hobbled city coffers.
Rita's statements today can give cover to the other candidates that want to talk about real world solutions to Lowell's challenges. While a few may opt to continue using, as Patrick Murphy mentioned, "Christmas Wishlist" talking points, my hope is that Lowell voters see through the fog and choose wisely.