Let's be clear, it isn't easy being a legitimate newspaper these days. What with all the 'blogging' and such.
Pardon my delight, as I remind anyone who cares, "To err is human. To forgive … means you ain't from Lowell!"
Maybe you noticed that earlier I picked up on a story from our 'Blog of Record.' (They are legit, y'know.) The aforementioned BoR then chased after the point I raised, as did Gerry Nutter, highlighting that a corruption culprit was still at-large. (Which is no biggie, btw, because there are illegal aliens around) Now I may not be legit, but I took the high road and didn't finger anyone as the "co-conspirator." Besides, I am not the pal of the Assistant U.S. Attorney, so I only know what is bouncing around the bubble. Meaning, I don't KNOW nothin'.
Neither does the Blog of Record, but they were inclined to wing it & fling it. Keeping up with the Joneses Bloggers, eh?
The clandestine co-conspirator is widely believed to be downtown Lowell property owner Thomas Byrne.
Ouch! No doubt that Chris Scott's "widely" is wider than this humble blogger's, but Tommy hasn't come up in my meager wideness.
I posted that quote, as an Update to my diary. Later, when checking the hyperlink, I noticed the blog entry had been … um, … tweaked.
Just below is the original, with the line I blockquoted bracketed in red:



If you follow this link back to the same post, maybe you will see this?: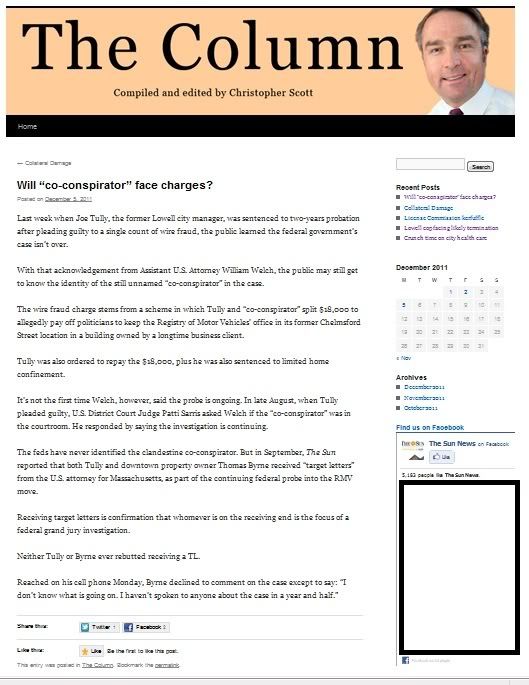 It looked like that the last time I checked. ;v)
Forgive me if I refain from speculating wildly about this any further. I don't know who the "co-conspirator" is. In my opinion, I'd look past the low hanging fruit. We are fortunate in Lowell to have a wide range of characters roaming about. Some are sketchy, but that spices the place up, in my opinion.
I'm not sure why The Sun is speculating. But, one fact is, they took a big step back. If they were just a little less arrogant, I would be willing to cut them some slack. Forget being 'divine.'