Is the Merrimack Valley Economic Development Council holding many of Lowell's "Most Valuable Players" hostage?
A small blurb in the Blog of Record listed the identities of those for and against Enel's proposed "Bladder Dam."
In Enel's corner: The Massachusetts Department of Environmental Protection, Lawrence Mayor William Lantigua; the City of Nashua; the Lower Merrimack River Advisory Committee; Lowell Motor Boat Club; City of Methuen; Pennichuk Water Works; Greater Lawrence Community Boating; National Marine Fisheries Service; U.S. Fish and Wildlife Service; Massachusetts and New Hampshire fish and game officials; Merrimack River Watershed Council; the Merrimack Valley Economic Development Council; UMass Lowell rowing coach Veronica Platzer; local fishermen; a handful of local residents; a Methuen business owner; and the chief engineer for new Hampshire's Department of Environmental Services.

In opposition: The City of Lowell; the National Park Service; Advisory Council on Historic Preservation, Northern Middlesex Council of Governments; the town of Chelmsford; the town of Tyngsboro; U.S. Rep. Niki Tsongas; state Rep. Tom Golden; the Massachusetts Historical Commission; Lowell Green Building Commission; Lowell Parks and Conservation Trust; the National Trust for Historic Preservation; the property manager for the Williamsburg condominiums in North Chelmsford; and several Lowell residents, including members of the Lowell Flood Owners Group and Pawtucketville Citizens Council.
(bold mine)
What's interesting is that the Merrimack Valley Economic Development Council (MVEDC) has a big chunk of its Board of Directors that are, on an individual basis, OPPOSED to the bladder dam. Yet, as demonstrated by the letter below, MVEDC's president David A. Tibbetts has bundled a number of political and business heavyhitters, endenturing their "gravitas" under his letterhead.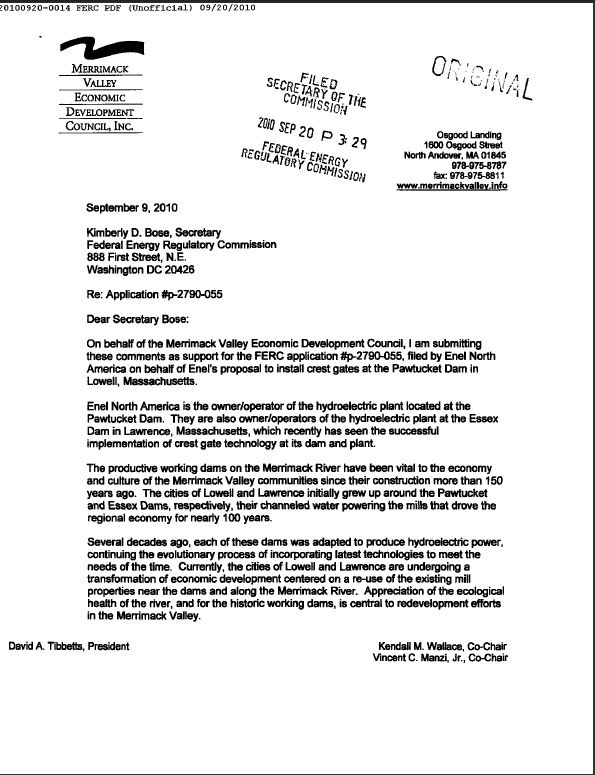 This is not a discovery on my part. Talk of the letter above, and the sheer gall of Tibbets, has been bandied about in Lowell's politcal bubble for over a year. But, for some reason, the squawk never reaches a boiling point. The offended politicos and business folks are, yet, to be so ticked off that they demand Tibbetts to formally retract the offending letter. If Tibbetts refuses, they could, en masse, resign from MVEDC's Board of Directors. The mass resignation could come with a scolding press release.
It might be a good idea to call some of the folks you know and ask them why they are allowing Tibbets to kidnap their good name and reputation. Further, maybe you know some of the mucky mucks working for MVEDC sponsors? Listed here:

Yikes! That must rub the Lowell flood victims and stewards of our City's historical integrity raw, seeing that the Commonwealth helps fund Enel/Boot Hydro's best cheerleader.
Where is the pushback? The uproar? You'd think the Blog of Record would be all over this?! … Oh .. Wait… :v\