Charter schools are here, whether you like it or not.
I'm not sure why we need more private schools in Lowell. There are plenty, already. Though, I think, you have to pay tuition for most of them. Imagine that. Sacrifice. My friend Cliff will remind us, "There is no free lunch."
Right, he is.
Kendall Wallace:
I can't say I totally understand the charter-school issue. If the public-school structure that made America great isn't working, then you can understand why people are seeking alternatives, but if the alternative weakens the overall system, what have we gained? Lowell School Committee member Jim Leary fears another charter school will pull the best students out of the system, leaving the wider public-school system to deal with the students who need the most help while the charter school saps the financial resources.

If the school can reject some students, then perhaps the funding formula needs to be changed with more per-pupil costs going to systems that need the additional resources to help the students most at risk.
Apparently there will be a sacrifice, … by the public school system.
There has been some recent chatter about the coming SABIS run charter school, but Lowell currently has The Lowell Community Charter Public School (K-6) up and running.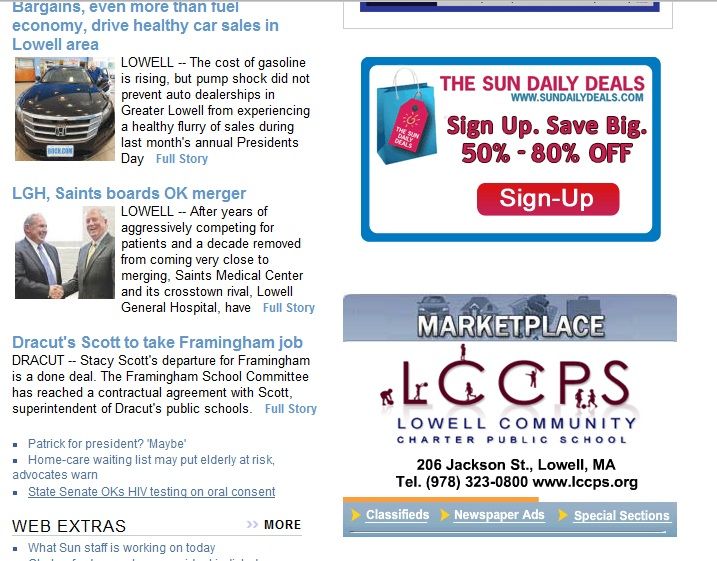 And this doesn't hurt:

One of the things that has been bugging me about the charter model is how kids get in. Is it a first come first serve? Or, do they use a lottery? Likely it is both. That's how it works over at LCCPS:
LCCPS is a K-6 school of choice that is open to all students who are residents of Massachusetts on a space available basis. LCCPS welcomes any child in Massachusetts although preference is given to Lowell residents and siblings of current students.
-snip

… If there are more applicants received than seats available in a grade, a lottery will be held for that grade on March 7, 2012 at 5 PM to determine who is offered a seat.
Wouldn't it be better if kids were randomly selected to go to the charter school system by the Lowell Public School system? Parents could opt out, if they didn't want their kids in a charter school.
That would make it more fair, imho.