Update: As Joe S. says, Conflicts of interest abound!
(Link to Monty Python Sketch)
DEAD PERSON: I'm not dead!
CART-MASTER: 'Ere. He says he's not dead! CUSTOMER: Yes he is.
DEAD PERSON: I'm not!
CART-MASTER: He isn't? CUSTOMER: Well, he will be soon. He's very ill.
DEAD PERSON: I'm getting better!
"The organization is essentially defunct," City Manager Bernie Lynch said to the City Council Tuesday night. "It has been for a period of time."

Lynch, who is an ex-officio member of the council's board, made his comments during a discussion of a controversial letter the council sent in 2010 to the Federal Energy Regulatory Commission in support of the crest-gate system proposed for the Pawtucket Dam.
…

When told it was Lynch who called his group defunct, Tibbetts said: "It is appalling Bernie said that because Bernie should have got an email reminder this week for the annual meeting in May at UMass Lowell's Inn and Conference."

"I guess we will be reaching out to the city manager and letting him know we are not defunct."
I bet you're wondering, at this point, why I wrote this diary. It's because of these two …. um … gentlemen: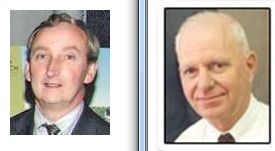 I'm guessing that Tibbetts is a gentleman, but he did say, "It is appalling Bernie said that …" Only gentlemen use the word "appalling."
Anyways, these two gents are a piece of work. Ya see, these two are named on the "controversial letter" that is being discussed. Tibbetts actually signed his name on it.
What is so heinous about this letter? It claims that an organzation, The Merrimack Valley Economic Development Council (MVEDC), supports the proposed "bladder dam" desecration of the Pawtucket Falls Dam. However, not all of the VIPs that contribute monetary and moral support to the MVEDC are claiming to individually support the bladder dam. Some publicly oppose it! So, either many of Lowell's important leaders are utterly two faced OR they have had their good names and reputations hijacked by the two mugs above.
I tend to believe the latter.
How?!
How does a two bit, internet facade of a group with a government subsidy for startup seed money get all the folks we tend to bow down to, to go instantly limp? Having one of the region's main newspapers at your fingertips doesn't hurt. Influential people, like those listed, don't like the media to cast them in a bad light, or worse, ignore them.
But, imho, the real reason is worse than that.
Lowell's history and flood victims are not worth the potential of losing THE DEAL. What deal, you ask? Any and all of them. The important people that are being brazenly railroaded by the MVEDC are all movers and shakers, wheelers and dealers. They will not risk that position. They will not risk a deal. Period.
The MVEDC knows that. So, they commandeer the collective gravitas of our City elders and then use that gravitas to shank our City's history and its residents.
You can be upset that your friends and allies are letting the MVEDC do this under their names, but that would be unfair. The "Deal" is important to all of us.
When defeating the bladder dam becomes our priority, it will become their priority. That's how it works.
STOP THE BLADDER DAM!