.
Last Sunday, Gerry Nutter let this tidbit out:
Don't take this has actual fact, it isn't, its just another in the many rumors floating in the political circle but keep an eye out for a possible change to the Lowell delegation of the Greater Lowell Tech School committee.
Gerry's teaser had a ring to it, so I stuck my nose in. The rumor mill coughed up Mike Lenzi's name. The rumor is that Lenzi has bought a place in Dracut in what is soon to be coined, Kazanjian Village. Now, we know that Lenzi is doing alright for himself in life, so it is possible he may choose to own in Dracut, but live in Lowell. Thus, Lenzi would be able to keep his seat as one of Lowell's Reps on The GLTHS board. (There is the "Nangle Option," also) So, Lenzi buying in Dracut, if true, is not a slam dunk that the chess pieces will permenantly move.
But then, Mike Hayden ratcheted up speculations by sending out this email to local electeds. The pawns are moving:
I am contacting all of you to let you know that I would be greatly interested in a possible open seat of a Lowell Rep on the Greater Lowell School Board in the near future. I spent 16 years on that board as an elected official and would love to have a chance to fill out an open seat if it became available. As you know if a seat became open it would be up to a joint committee of the council and school committee to make the appointment. I would also pledge not to run for the seat when the term was up thus giving an equal chance to anyone that wished to run for the seat I would appreciate any consideration you might give me.
Sincerely Michael J Hayden
Hmmm. It's understood that Hayden and Lenzi are thick as thieves. So, Hayden's solicitation is likely predicated on an inside scoop into Lenzi's intentions. Hayden is jumping the starter's gun, trying to block out other potential "candidates." Maybe the guys that actually put their name on the ballot in 2011 would like a shot? Maybe the City Council & School Committee will think outside "the woods" and bring in a new face?

Gerry Nutter, a supporter of the Santoro Administration, has offered these names:
I look for Dave Laferriere , William Sheehan, Mike Hayden, Ralph Hogan and former teacher Herb Raistrick to all have an interest in the seat if it does indeed open.
I have heard several other names, but opt to not spill the beans. Tempers flare in these sorts of things. Why offer someone's name as fodder for a bubble circle jerk?
It was no surprise that Hayden went behind the scenes, early. He also left a calling card on Nutter's Sunday notes. The most interesting lines, imo, were these:
… I would most certainly put in for it and stay on the seat will a promise not to run for the seat when it comes up. I think anyone who gets the seat should make that promise so that they do not have an unfair advantage when the seat comes up for election in 3 1/2 years.
Why is Hayden looking to lock up this seat until 2015? Maybe this?: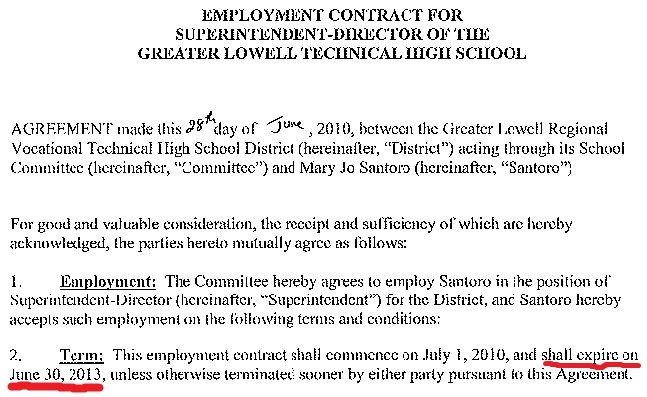 Link to the GLTHS Superintendent's contract here.
There is one other tidbit you may like to know. Currently, the GLTHS Committee is reviewing for approval a new set of policies and guidelines. On a related note, there are changes being proposed for what the Committee would be allowed to do when penning a contract with any potential Superintendent.:

6 years! … ?? What a coincidence. ;v)