You may recognize the graph I took the liberty of modifying. I started with a graph from the City Manager's Budget Proposal. (h/t Gerry Nutter) If you click through, you will see the original graph on Page 17.
I took the liberty of "painting in" lines that show the tenure of the past City Managers: Richard Johnson (1991-1995), Brian Martin (1995-1999), John Cox (1999-2006) & Bernard Lynch (2006-Present). The BLACK verticle lines approximate each change in the Manager's position. The YELLOW verticle lines approximate 1 year after a change because I am assuming the previous City Manager crafted the budget his successor worked with. The dollar value is the amount the average single family household tax increased in Lowell (the BLUE line) over the tenure of each City Manager.
Note: The annual demarcations occur mid-year, as the budget does. I'm not sure exactly what months any of the City Manager changes occured. Likely, not at mid-year. I think Lynch came in August 2006.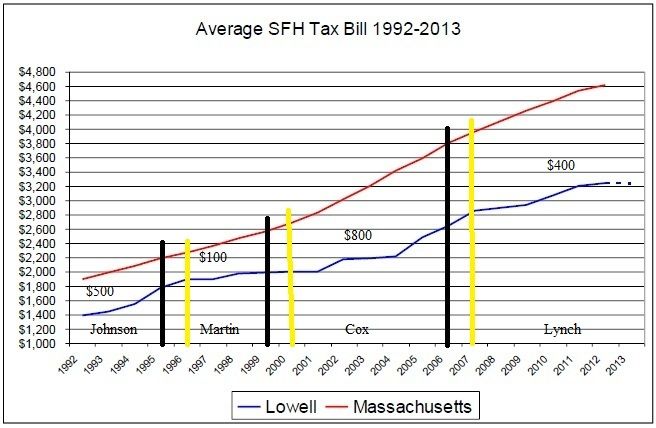 Lastly, the dollar figures are interpolated from the graph. I doubt CM Lynch adjusted 1990's dollars for inflation. Thus, not to pick on Richard Johnson, we should think that "$500″ is a little heavier in today's dollars.
Anyways, we are a City with "Taxes on the Brain." For some it is a fetish. Others, an addiction. For several, it is a hackneyed talking point, plodded out on Local Cable and the Blog of Record to make political hay for the first two groups. For most of us, it is just a pain in the ass that we accept as the necessary cost of having the best City in the Commonwealth.
Joe S. said:
And over the entire period there was not much reliable State aid supplementing the tax levy until the last couple of years. So each manager had to deal with a different environment, and had different levels of stabilization account funds left over from his predecessor.
Looks like state aid increased steadily from 1994-2001, then stayed level until 2003.
This graph picks up at 2001. The glut of "Free Cash" dwindled fast. Not sure what happened the 10 years prior to get to that glut, but it took 4 years to piss through.