I often marvel at the editorials that puke forth from the Blog Of Record. So often, they are cobbled together from similarly shallow sentiments expressed by denizens of the national right wing punditocracy and flavored with the rants of the "Bumper Sticker Braintrust," plopped and swirling around the Topix(Disqus) bowl. The utter lack of depth offers no civic sustenance, whatsoever. The lack of substance must aid digestion and regurgitation by the parroting hordes.
On occasion, the Editor forgets himself and his business model. Thus, we find The Sun caught spinning a shadow of itself. Maybe, the self loathing forces an aggressive act of projection? For some reason, I think the head shop over on Dutton Street isn't short on self-love. Lack of conscience does that.
Anyways, today I read these words:
But if Warren knowingly embraced the unsupported information to get ahead, she is guilty of a shameful mistake.

In the latter case, we'd have to seriously consider whether she has the character and integrity to represent the people of Massachusetts in Washington, D.C.
Just the other day, Joe S. wrote something that reminded me how loosey goosey The Sun is with numbers. He wrote:
… they then justified their approach based on the number of responses to an associated poll. If they continue to justify their work based on 1100 "contibutors", …
I'll leave as a foregone conclusion that online polls don't mean shit. See Freeping. For many readers of The Sun, not much is a foregone conclusion. And by readers, I mean Lowellians and most specifically - Lowellians that vote.

Before the 2011 city election, I studied these very folks. Those studies led me to quantify city voters in this table:

Now, I won't garauntee the accuracy of the stated values to the "n"-th degree. I will say that between 2009 and 2011, I have spent too much time mulling a database that Mr. Lynne has artfully crafted. This database allows for multiple ways to recheck the data. So, I am as confident in this data, as I am that I am my father's son.
I've reported this data, on this blog, in several diaries, like this one: PAC - Politcal Action Computing
This tells us that of a city of 106,000, only 19,493 have ever voted in a city election. Of them, only 7,500 have voted in 4 or 5 of the last 5 city elections. And they tend not to be young. :v(
(I added Bold for a reason)
If you ran for elected office in Lowell, last year, this should look familiar:

Above is a page from a marketing ploy The Sun offered to the various campaigns. Candidates were provided some estimates of voters they could reach, if they opted to advertise in The Sun. Suffice to say, The Sun's marketing folks played lose and fast with the numbers. Intentionally? Can't say for sure.
But if Warren The Sun knowingly embraced the unsupported information to get ahead, she The Sun is guilty of a shameful mistake.
Let's take a closer look at what was offered by The Sun: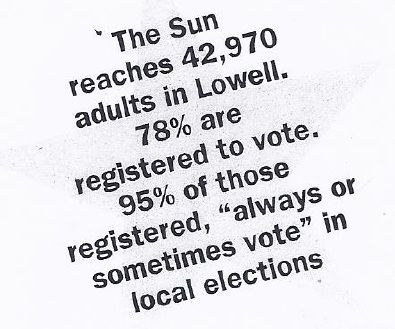 Let's do the math: 42, 970 x 78%=33, 517. Take 95% of that, you get 31, 842. Wait a minute. My studies conclude there are only 7, 500 "strong city voters." Okay. That is not what The Sun will target. Yet, I count only 19, 493 Lowellians to have ever cast a ballot in a city election since the turn of the century? How could The Sun reach out to 31, 842 voters? Honest mistake?
Another honest mistake?:


First .. Um.. You can ask any elected office holder in Lowell. The age span of 25-44 is NOT "prime voters" in city elections. Ask Rita Mercier about her Seniors GenXers. Come on. Here the Sun isn't even trying to pass the straight face test. The powerhouse vote in Lowell is the 50+ vote! Period.
Second. And I'll rest my case here, The Sun claimed it could outreach to 66,000 Lowell voters.
On Nov. 9, 2011, the City of Lowell's Elections Office reported that there was a total of 50,354 Registered Voters.
How did The Sun, by mistake, come up with 66, 000? I have no knowledge, with data going back to the year 1960, of the total Registered Voters in Lowell to EVER exceed 55, 000.
Take or leave what I have offered, as you see fit.
Should The Sun attempt to opine on anyone's "character and integrity," I know I'll take a pass. Thank you very much.