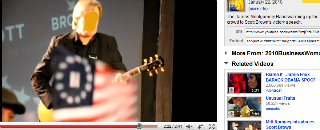 For whatever reason, Gerry Nutter has closed comments in his latest diary. I can only venture to guess why. It could be he is afraid he won't be able to manage the comments that would challenge his shoddy constructs. Or, maybe he wants to squelch those commentors that would seek to affirm his slant. Gerry must cringe when he reads a compatriot invoke Jim Buba as a pillar of civic thought and electoral gold. (You fight with the army you have, eh Tom?) It might just be that Gerry wishes to drive more traffic over to this blog. I'm etching a bald patch onto my noggin, as I scratch away, preplexed why Gerry and crew pour attention on to what is said on the intertubes. Ignore it. Like most Lowellians will ignore Rita Mercier's endorsement of Scott Brown.
I have to quote Bill Taupier, roughly, 'Don't give anyone advice that is not sincerely meant for their own good.' So when I say, "Ignore it." That is the best advice I can give. That's not to say that I can't predict how the ego-centric, uber-hubris of our #1 vote collector and her posse of sycophants will trounce this advice, to my own amusement. But, I did warn you!
This is a plausible statement: This endorsement is ALL about Rita and her lust to get even with Mayor Murphy for firing Diane Bujnowski.
Does anyone else get the sense that Mercier's response reeks of,"The lady doth protest too much … ?" You see, I didn't just make this shit up. There is an undercurrent in the bubble, not only about Mercier seething over Bujnowski, but also that she will commit herself to a rather nasty effort to damage her various foes. All you really need to figure out was how vigorously the pushback came out of Mercier's camp.
All that said, though Mercier can look elsewhere for a vote, I have to acknowledge that she is political gold in this City. So, either she is doing something right or there is something very wrong about our political realm. One thing that is wrong, you'll see over at Nutter's blog.
Your bromance combination of Councilors Bill Martin and Mayor Patrick Murphy have never come close to achieving that kind of popularity and you can call them her seniors all you want but they have shown to be the regular voters in this city for many years and most of them and us lifelong Lowellian will vote Rita in has long has she runs.
I've had a few sitting councilors say to me that Bill Martin is Lowell's best Councilor. No shit. Sitting councilors with enough humility to admit that. Who knows, maybe Gerry even agrees? I do. But, in Gerry's rant, he is scrambling to stain two councilors by associating them to my "sin." It's the whole "guilt by association*" that the politically inept clumsily deploy. Gerry, and others, if you want to get a taste of some "lifelong Lowellian," go ask Bill Martin about how he is involved in what I think and write. I promise you, you won't forget his response. Word of caution for the nitwits that think a stint at Keith Academy and a law degree has somehow rendered Bill soft. It was a weak move to drag bystanders in. Gerry knows it, but his bag of tricks is light.
Speaking of lightweights, let's talk about our half term Senator Scott Brown:

Who does Scott Brown stand with? NOT US.

Since he arrived in the Senate, Scott Brown has clearly demonstrated through his voting record and his actions who he does and does not stand with. While voting time and again to protect the interests of Wall Street, Big Oil, Mitt Romney and his Republican colleagues and millionaires and billionaires, he has failed to fight for fair treatment of women, the LGBT community, students and the Massachusetts middle class. Take a look below at our detailed description of his record to learn just whose side Scott Brown is really on.
I have met Scott Brown, briefly, at the last St.Paddy's Day breakfast. We had a 60 second chat. He didn't give me the skeeves, nor did I feel like I had to wipe our handshake off, asap. But, if you click in to the link above, you would see why I am not buying his "regular guy" schtick. I can't for the life of me figure out HOW Brown gets the "Tom Jones treatment," in these parts. You can go to a local Brown event, and you'll see Warren Shaw, Dave Nangle, Mike Hayden and Gerry Nutter throwing their panties at him. Frankly, I'm embarassed for them. Fortunately, as we move towards the election, we see Bay Staters are seeing through the "pick up driving, independent, regular guy" facade Scott Brown's consultants have so carefully crafted. The polling data shows it.
The image at the top of the page is snapped from a video of Scott Brown's victory party, in Jan. 2010. The floor at the event was covered with the "Tea Party II" flags you see in the pic. Scott Brown is not an independent. His conservative and Wall St masters give him permission to vote, once in a blue moon, in a way that allows him to make TV ads for his campaigns. Accuse me, if you like, of being a solid Democrat that strives to purge this empty suit from the Senate. Most assuredly, when the debates with Elizabeth Warren come along, you'll see how shallow Brown is. Maybe you won't? I guess it's a "plausible" that you may swallow the "Aw shucks, Ms Warren." routine Brown will be overly coached to deploy. Some swallowed it whole when Sarah Palin debated Joe Biden.
I'm expecting to see Scott Brown follow in this young lady's footsteps.

I should be careful not to set expectations so LOW for Brown, that it will be declared a win, if he knows that "the shot heard 'round the world" wasn't fired in Concord, NH. These Tea Party folks are sketchy with their history. Suffice to say, I expect Brown to stay clear of policy and dance to achieve likeability. It really is his only strength. Too bad he wasn't running for a US House seat. Brown as a Congressman is a reasonable goal. With only 100 sitting Senators, it's recommended that we send some talent, not looks.
Finally, continuing with the "guilt by association" trend:
I'm another Democrat for Brown! With Rita Mercier and the 3 Reps from Lowell who are quietly supporting Sen. Brown (and maybe not that quietly) Prof. Warren will not win Lowell.
Conjuring the political mojo of the delegation is a stretch, if there ever was one. Nangle is in the tank for Brown. That's Okay. It's not like the City Dem Committee are going to spank him for being naughty. Murphy was recently at a Warren event. He is straddling the fence? I don't know. I have had several conversations about this race with Tom Golden. He can speak for himself, as he sees fit. Not everything I am told is for sharing, to be exploited so I can garner more public noteriety from the consumers of political pornography. Gerry Nutter is the Ginger Lynn of Lowell's political porn scene. Gerry will take any position, as long as he is in the money shot.