For those of you that avoided the Tsongas Center like the plague, on Monday, you would have seen a large spectacle. I took this pic from the top of the Ayotte Garage at about 4:45, that evening. This was not the peak of the event.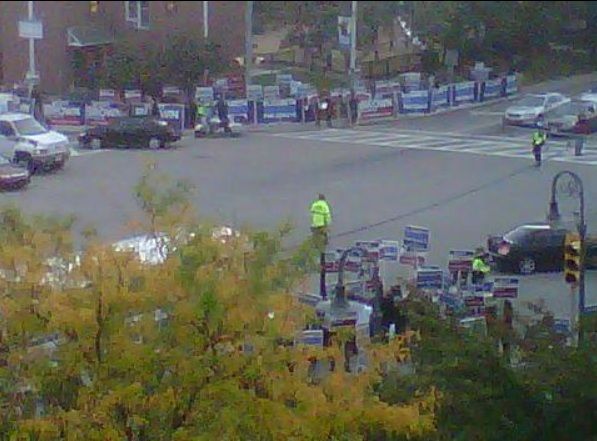 Maybe an hour earlier, things were much quiter. Things were getting set up. I had asked a seasoned activist to show me the ropes, as it were, so I was seen gallivanting about, just taking it all in, so to speak. I was studying the scene. Apparently, in the first hour or so, Mike Hayden walked by me. I didn't notice. Someone else just happened to catch this moment, as they snapped some shots of the "scene."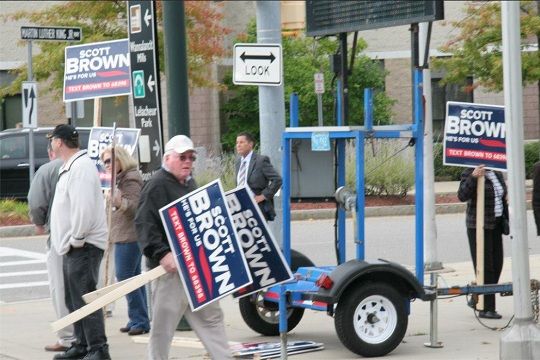 Yes, that is Dan Housle from Channel 7 there working on his tan. Plus, me surveying and Mike Hayden carrying two signs. Hayden is a two fisted Brown supporter. I later saw Mike. He was blocking the crosswalk, at the time, but when he called my name out, I accepted his shallow taunt and shook his hand. There must be some level of comity extended to those that hold signs for a candidate. Not nitwits that put Hiltler moustaches on candidate's pictures. Those folks suck. But, Mike was doing his little part, as were maybe 1,000+ others. I moved along, as I knew the cops did not want the crosswalks blocked. Plus, I was escorting sign carriers over to some prime "real estate."
For my courtesy, Mike Hayden jots this on his Facebook page.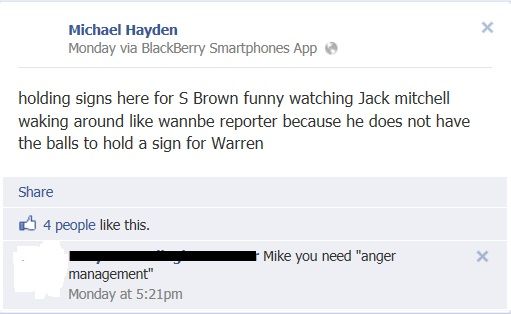 Maybe I should have left Mike alone, to stew in his loathe, but someone pointed his fb jeer out to me and I couldn't let it go unanswered. If you let punks take liberties with your name, they only get bolder. So, here we are. I'm not convinced I should feed the attention whore that Mike Hayden is, but what the hell. He shook my hand when I offered it, so he ain't all bad. I can throw him a meager bone.
After I took a few pics from the top of the Ayotte, I met up with a pal from NH and we made our way to support the Warren staffers that were feeding signs to the "front line." So from 5 to about 6, you could see me doing this.

Then, from 6 to about 6:45, you could see me carrying signs off the front line "dump" points, (debate watchers had to be inside the Tsongas by 6:15 or so), back to the staging area. At 7, I went over to the Brewery Exchange to watch the debate on TV. I gave my two tickets away, so I could help a little longer. Plus, it's more fun to hang out with the IAFF and drink a beer or three.
PS. To see more pictures of the event, please click over to ElizabethForMA's photostream.