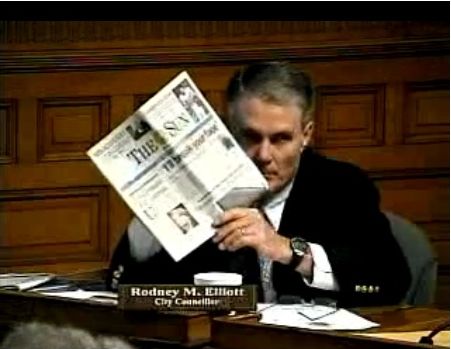 Jumping the shark is an idiom created by Jon Hein that is used to describe the moment in the evolution of a television show when it begins a decline in quality that is beyond recovery. The phrase is also used to refer to a particular scene, episode, or aspect of a show in which the writers use some type of "gimmick" in a desperate attempt to keep viewers' interest.

In its initial usage, it referred to the point in a television program's history when the program had outlived its freshness and viewers had begun to feel that the show's writers were out of new ideas, often after great effort was made to revive interest in the show by the writers, producers, or network.

The usage of "jump the shark" has subsequently broadened beyond television, indicating the moment in its evolution when a brand, design, or creative effort moves beyond the essential qualities that initially defined its success, beyond relevance or recovery.
Besides "civility," the Council should aggressively curtail the degradation of "decorum."
For greater context, please click HERE.