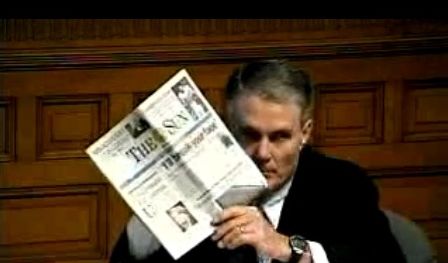 It should be clear to just about anyone, why I refer to the Lowell Sun as the Blog of Record.
THE ALLEGATION from a City Hall janitor that Mayor Patrick Murphy broke the glass on a City Hall door in anger after Tuesday's meeting, which Murphy denies, prompted some council observers to wonder what Murphy could have been upset about.
Right away, the anonymous blogger that penned this bit, moves quickly past Murphy's denial and drives on under the assumption that the janitor's word is gold. Two things bolster this asumption. First, the Mayor, himself, has crafted a public persona as an edgey outsider. He has made bold moves, big moves. In reaction to the Mayor, his detractors have conjured a persona of him as a 'hothead.' This persona is not too far from reality. Though I know Murphy has the martial discipline required, I notice in his body language, a posture of one prepared to fight, in the moment. Anyone that watches hockey knows of what I mean. We see skaters beginning to square off and we'll snort, "Oh. The gloves are coming off." Mayor Murphy, when challenged, will find an engaged, cutting eye. One that promises more than just a trifle, should the challenge cross Murphy's line.
But what stands out most in the farcical tale is this:
Councilors Ed Kennedy, Rita Mercier and Elliott all told The Sun that a city janitor asked them as they were exiting City Hall why Murphy was so upset.
The councilors said nothing happened that they were aware of, and asked the janitor why he was inquiring.
"He said 'The mayor stormed out of City Hall and slammed the door and the glass broke,'" Kennedy said.
Elliott and Mercier confirmed that account.
At almost every City Council meeting I have attended, C.Elliott makes a hasty exit. It's routine for him to be packing up his papers during the last motion, practically on his feet, if not standing, when the gavel falls for adjournment. How is it that, on this odd night, the entire 'Axis of Chatty' are 'present' to support Lyle Moran's investigative high water mark.

The mayor did argue with Councilor Rodney Elliott both during and after the meeting.

There was a long buildup to the verbal scuffle. Elliott was frustrated he was not getting answers to some of his questions from Lynch concerning a $2 million loan order for new parking kiosks.

"I don't want to go to the public hearing next week and hear 'I don't know, I don't know, I don't know,'" Elliott said.

Before Elliott could ask another question, Lynch interrupted.

"Councilor, I've never come in to a public hearing and said, 'I don't know,'" Lynch said.

Elliott objected to the manager jumping in and asked the mayor to intervene.

"He is answering the question," Murphy said.
(bold mine)
Though the revelation is subtle, the Blog of Record acknowledges that C.Elliott is more interested in announcing his dirty laundry list than getting answers.
When startled by the CM's retort, C.Elliott slipped into one of his favorite verses from the Book of Hackney, 'The Mayor is unfair.'
Elliott replied: "You have no problem gaveling me down, so I think you should do the same to the manager."
Murphy let Elliott finish his question, but after the meeting quickly approached Elliott to discuss the incident.

The mayor described their interaction this way in a statement:

"Afterwards, I suggested to Councilor Elliott that if he asks a question of the manager, he should also respectfully wait for a response," Murphy said. "The councilor disagreed and I left it at that."

Elliott agreed with Murphy's description of the subject matter discussed, but said it was a testy exchange in which he asked for fairness in the application of Roberts' Rules of Order.

"(Murphy) came right down toward me and it looked like he wanted to start trouble," Elliott said. "He also looked very angry when he left because he was upset I was challenging the manager, who he tries to protect."
I really don't see C.Elliott and how he approaches city governance as ".. challenging the manager .. ." Obstensibly, that is what we see C.Kennedy do. Kennedy is, at a minimum, wily enough to not get caught looking … (Fill In The Blank).
As for C.Elliott's closing remark, I've talked enough with Murphy to know that his mind is bent on making Lowell a better city. One that accounts for 106,000+ Lowellians. Murphy did not embark on his path to 'protect' the manager. If Murphy is supporting something, it may be that the manager gets carried along for the ride.
What C.Elliott is up to on Tuesday nights? C.Elliott favors a Plan A (Strong Mayor) for of city goverment. He is on the record, repeatedly, promoting his opinion. As recently as yesterday, on Warren Shaw's morning show on WCAP, Elliott fluffed the notion of strong Mayor.
If we are going to speculate about Mayor Murphy's motives, would it be reasonable to suggest that C.Elliott uses his time to damage the City Manager, thus degrade the effectiveness of Plan E city government? Do we have ANY evidence of this?