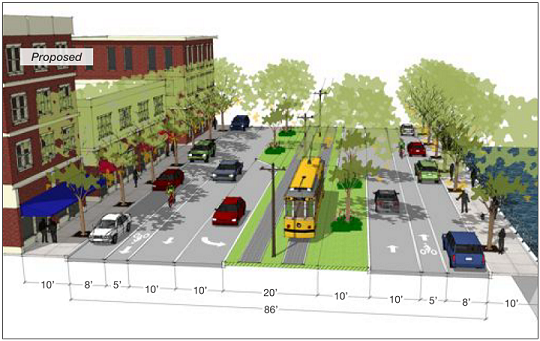 After over an hour of details surrounding the $2 million loan order to purchase new parking kiosks, as well as improve some of Lowell's current inventory, C.Kennedy made a motion to delay the vote by one week. The discussion, then, continued for about another hour more. Ultimately, the motion to delay was supported, 7-2, with C. Lorrey and C. Mendonca against.
Come tomorrow, over at LTC.org, we can all dive back in to the picayune of tonight's exquisitely detailed waltz around the kiosks. Honestly, I partly jest. There was plenty of red meat for those of us that like concrete responses to valid questions. But, tonight, politics was in the air, so progress was waylayed.
It's late, so I'm going to put down some quick notes and take a lucky stab at how this all plays out over the next week.
There seemed to be, for all intents and purposes, 2 unresolved issues: 1) the proposed parking along Father Morrissette Blvd 2) if the loan order should be approved before the bid documents are evaluated.

1) In this area, all the Councilors had 'reservations' about reconfiguring the layout along the Blvd. However, Adam Baacke provided details accumulated by Lowell's Traffic Engineer which stated that the current configuration is only 50-75% ultilized. Meaning, the Blvd is underutilized. It is used less than many streets that run through densely settled neighborhoods. The short term plan, as proposed with kiosks, would bring utilization of the Blvd to, about, a consistant 80%. The long term plan would follow the guidelines promulgated by the Speck Report. This plan calls for a trolley, a bike lane and on street parking.
Without equivocation, C.Elliott denounced the data presented, relying on e-mails and anecdotes from residents. He mixed in his gut feelings on why the Blvd would be a mess, if kiosks were introduced. Blind to empirical evidence, C.Elliott came to his own conclusion. Typical. Next, C.Kennedy put his fist down, declaring that the Speck Report made no reference to on street parking. He was adamant about this, … well, until he wasn't. (Adam Baacke can be very persuasive.) Even so, at night's end, C.Kennedy made some offhanded remark about how he would take a look at the Blvd, himself. We may as well just fire the Traffic Engineer. How many potholes could that salary fill?
Note: Below please find ample references to the Speck Report's reference to the Father Morrissette Blvd. (h/t Mr. Lynne)
xxx
2) Also, unresolved, is a lingering concern about how a loan order can be justly approved with the bid documents, mostly, in place. The City Manager's view on this is 'depends.' Sometimes bidders want the loan order secured BEFORE they will prepare a bid. Sometimes they don't.Ultimately, it is the interest of the City that the CM must uphold. In this situation, the CM opted to get the money secured, prior to having the proposals offered. Plan E gives the CM the authority to exercise this discretion. Like that would keep C.Kennedy out of the front seat? ;v) Kennedy repeatedly mumbled something about the 'evaluation process.' I came away with the impression that C.Kennedy wants to stick his nose further into the CM's operations. Thus, the motion to delay. Other councilors, deferred.
I'm now going to gaze into my crystal ball and predict how this all plays out.
The concern over the traffic flow on Father Morrissette Blvd will subside. Based on comment from Councilors, tonight, the majority are willing to acknowledge the power of a calculator in the hands of a professional Traffic Engineer. C.Elliott, of course, will make pouty, so he can try to justify his hissy fit last week. He has questions, y'know. People send him emails and call him. Fortunately, Elloitt's 'science denial' will not persuade his peers.
The concerns about the RFP and the bid evaluations are more tricky. Mostly because these things are in the hands of the City Manager. C.Kennedy bristles at what he can not meddle in. I fully expect the Blog of Record to pick up Kennedy's drone. Before next Tuesday, we should expect The Sun to call into question nuances of procurement methods. The Sun will find whatever weasel room they need to further instigate the Boo Birds to squawk louder. What the end game is? That is less clear. Two things come to mind. Spreading FUD (Fear. Uncertainty.Doubt) around the kiosk RFP is meant to snowball with the existing stink around the Lowell Memorial Auditorium RFP. Also, degrading confidence in how the CM conducts business, that he slants the playing field, makes him no better than any crooked politcal CM's that may have preceded him. They mean to convince us that Lynch is just like the rest of them.
Tonight's episode only secured my disposition towards C.Elliott and C.Kennedy. Elliott craves attention. He is needy, high maintenance. But, C.Kennedy is tricky. Crafty and mostly, imho, up to no good. This delay is not meant to give Kennedy time to learn. It is designed to give him time to move more pieces, so he can get a better angle.
I suppose you could doubt my opinion. Fair, I guess. But, you should have seen Kennedy wrangle with Adam Baacke over something, Kennedy was so patently ignorant of. Kennedy took a strong stand, emphatic that the Speck Report contained none of this:
Some Highlights:

Page 26:

"6. Bicycle lanes are added to French and Father Morrissette Boulevard."

Page 31:
"13. Father Morrissette Boulevard: redesigned as complete street including a streetcar (long-term). Short Term: Two travel lanes traded for two parking lanes and two bike lanes."

Page 54:
"Although the apocryphal vision of the 1960s plan for downtown Lowell thankfully never came to pass, it was initiated, with the construction of Father Morrissette Boulevard from University Avenue Bridge to Lowell High School. Along this trajectory, its 5-lane cross section and high-speed geometrics were appropriate to an urban expressway that was intended to circle the entire downtown. But construction then stopped, and the city was left with a roadway that lacks the continuity that would have justified its high volume, high-speed design. As a result, it has wisely been determined that this street can be rebuilt as a lower-speed 3-lane boulevard in conjunction with the construction of the proposed downtown circulator trolley."

Details on the proposed lane widths on Page 55.

Pg 60″

"As noted, the above plans are based on the construction of a streetcar and, without one, significant investment in Father Morrissette Boulevard is not recommended. However, given that it is currently oversized for its traffic, encourages speeding, and has roadway available for more productive uses, it is recommended that a restriping regime be implemented in conjunction with the other short-term reconfigurations presented above.

Currently, the typical Boulevard segment contains two 24-foot-wide halves, each of which holds two 12-foot travel lanes (plus turn lanes). Each of these halves should be restriped to contain an 11-foot driving lane, a 7-foot parking lane, and a 6-foot bike lane. !e parking lanes would be available for use by the high school and by overflow visitors to the Tsongas Arena and Boarding House Park, taking pressure off the Ayotte Garage. The bike lanes would immediately introduce a key component of the Bicycle Network without having to wait for the construction of a streetcar. !is restriping could be accomplished for the cost of paint alone, without even requiring revised signals."

Caption on Pg 60:

"In the short term, each 24-foot-wide segment of Morrissette should be restriped into one travel lane, one bike lane, and one parking lane."