"For him to use a symbol of our immigrant story as a prop in a perverse ploy for a cheap laugh is insulting and belittling to the Greek-American community," said former state Sen. Steven Panagiotakos. "There seems to be a pattern here of hostility to the Greek-American community.

"A mayor is supposed to show leadership, not divide a community."

Update: Jen Myers Says:
March 18th, 2013 at 7:52 am e
Pericles was moved back to the MRR in October, after the former state senator approached the Mayor at a UMass Lowell event and asked him to move it. That was the FIRST time anyone personally asked for it to be moved. So, it was.
I agree, in spirit with Pangy, '… a symbol of our immigrant story as a prop in a perverse ploy ..' is not cool. Too bad Pangy and Mr. Behrakis started it.

Before I get into examining how much of a bunch of touch holes a few prominent Greeks are being, I'd like to place this into context. By a show of hands, how do you think the French, Irish, Cambodians, etc. are digesting the Greeks high dudgeon? Who the hell proclaimed Pericles, or Perkuleeze in Rita speak, belonged parallel to the Father of our nation, George Washington? Not too presumptuous on the part of the bust donors? Maybe a tad? Did Mayor Murphy strike a blow at the inflated Aegean egos, on behalf of all the 'lesser' ethnicities?
As The Blog of Record will never opt to sort it out, let's give it a try here. We've already covered some ground.

xxx
From April 1, 2012:
ONE ITEM was missing from the mayor's reception room in City Hall during last weekend's portion of Greek Independence Day weekend: The bust of Pericles, Greek statesman. It was a gift from Lowell's Greek community to the mayor's office as part of last year's festivities.

The Greek community wanted the bust to sit on the mantel on the left side of the room, across from the portrait of George Washington. The father of Greek democracy and father of American democracy would face one another.

….

The bust's location surprised Murphy's predecessor, James Milinazzo. Milinazzo said someone had suggested he take the bust home upon leaving office. Milinazzo said. "It was my understanding it was supposed to stay in the mayor's reception room, which is where Sen. (Steve) Panagiotakos said it should be the night the gift was given. The idea is Pericles would balance off the room."

Local Greeks say they just want to see Pericles back in his rightful place.
Do you find yourself scratching your head after reading the Blog of Record? I do.
Why are "prominent Greeks" approaching the Mayor on this through a flawed emissary, The Sun? Do they think that they need to muster a little public outrage to convince Murphy?
I understand that The Sun is using the ethnic flavor of this matter to drive deeper a wedge between Murphy and segments of the "likley voter" base. The fact that Murphy takes some pride in his ancestry is being exploited by weak political minds that can only manage to brand him, the "Irish Mayor."
Please tell your friends, Lowell is a city that celebrates diversity. And by celebrate, I hope to mean that we sustain unique identifying qualities of heritage, while concurrently uniting in common purpose, as America calls us to do. Those that wish to use what makes us best, to divide us, are petty and poisonous. Shun such efforts and reinforce what unites us.
Who remembers this?: Translating Progress

Murphy's approach to campaigning and governing gives me hope. As my own Irish, Scottish, French, Swedish ancestry does not paralyze me, I hope Lowell can progress as the beautiful mutt that it is.
For certain "prominent Greeks" that may need pacification on the matter, maybe some solace can be found in Patrick's twitter response to this flap.
Patrick Murphy @thinkmurphy

@lylemoran @suneditor What you leave behind is not what is engraved in stone monuments but what is woven into the lives of others #Pericles

8:43 AM - 1 Apr 12via web
xxx
It didn't take but a day or two, days The Sun opted not to use, before more light came out as to how Pericles was banished to the Mayor's office:
7.Greg Page Says:
April 2nd, 2012 at 8:06 pm e
Got to work today, turned everything on, settled in at the desk…and in walked the morning/early afternoon custodian, Jim. He looked up at the Pericles bust and said, "I don't understand why the paper even brought this up. Someone asked me to move it in December, just before the Mayor's Holiday Reception, and it's been sitting in that exact spot ever since."

..and so went a conspiracy theory.
In the many months since, my understanding is that it was Diane Bujnowski that had Pericles removed for the annual Christmas shindig, under Mayor Milinazzo's tenure. Apparently, to some, Pericles doesn't even rate up to Santa Claus. I stumbled into the Mayor's office, after Greg Page had arrived, noting the good Greek there. I never knew of the bust's rightful location, but to me, Pericles was right at home, greeting the Mayor's entry to his office.
Lest we forget, on Inaugural Day, it was Mayor Murphy that quoted from The Athenian Oath
Murphy sworn in as youngest mayor
Jennifer Myers, 1/4/12 (Archived Online)

Murphy concluded his speech by alluding to a line from the oath the citizens of Athens took in the time of Pericles : "We seek to transmit our city, not less but greater, better and more beautiful, than it was transmitted to us."


…





At 27:36

Maybe the local Greeks have a Spartan heritage and Murphy's rendition of an Athenian was the first stone? I'd have thought them impressed upon that their ancient kin would be dusted off and brought to life in modern civics.
But, no. Instead of coming to Murphy, face to face, the Greeks of Lowell sent a trojan virus, aka The Column. The underhanded assault, coupled with Mr.Behrakis' grousing over attire, seemed to cement Murphy's resolve on shoving back. And by shoving, I mean ignoring. The bust of Pericles resided in the Mayor's office for months to come.
At some point, towards Christmas 2012, the bust was spotted back in the Mayor's Reception Room.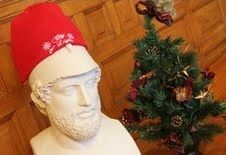 THE COLUMN: Charter school facing bumpy ride
12/9/12 (Archived Online)
DURING HER passionate speech about the importance of all councilors' names being on city citations, Councilor Rita Mercier revealed that the bust of Pericles has been returned to its proper place in the Mayor's Reception Room.

Mercier did so by saying she was not going to wait as long as the Greek community did to have a perceived slight by the mayor rectified, and she did not have to, because the Mayor's Office has addressed the citations issue.

Pericles was a gift from Lowell's Greek community to the mayor's office during the tenure of Mayor James Milinazzo, but for most of the year it has resided in the entrance to Mayor Patrick Murphy's office, not the reception room.

The Column first raised the Greek's community's concern about Pericles ' location in April.

The Greek community wanted the bust to sit on the mantel on the left side of the room, across from the portrait of George Washington. The father of Greek democracy and father of American democracy would face one another.

Former state Sen. Steve Panagiotakos said several weeks back he had a discussion with Murphy about the Greek community's hopes that the bust would be returned to its rightful home. The community is pleased the mayor has made that happen.

"I don't think he was apprised of the significance of it," Panagiotakos said. "We are grateful to the mayor for putting it back in the reception room."

Jennifer Myers, Murphy's aide, said the bust was returned to the reception room at some point in October.
You can come away from all of this with your own opinion. Mine, is that this is all blown out of proportion by a faction of Murphy haters and a colluding dead tree rag. Murphy is an existential threat to the status quo and they know it.
It is no wonder that Murphy took Pericles down for a pint. If you have ever listened to Murphy, you can tell he is the only one around here that even listens to Pericles.