Has it been "four to five years" already?
From The Column, 9/30/12 (Archived Online)
STATE REP. David Nangle held a fundraiser at Ricardo's Restaurant on Gorham Street several days ago. And the chatter was about a hush-hush huddle between former state Sen. Steven Panagiotakos , for whom Nangle used to work, and UMass Lowell Chancellor Marty Meehan.

Meehan downplayed the conversation. He said the two talked about the many UMass Lowell building projects. Political insiders, however, speculated the political titans talked about Panagiotakos ' future: Specifically him becoming city manager .

As City Manager Bernie Lynch gets roughed up every Tuesday night, Panagiotakos has said privately that he would indeed consider the job, but he doesn't want to be viewed as pushing Lynch out.

That's in stark contrast to 2006. Following the departure of John Cox as city manager , the job was Panagiotakos ' for the taking. He did not enter the ring, thus opening the door for Lynch, the former Chelmsford manager.

Government has been divided since Cox was forced to resign by the City Council — remember the "six rats?" One camp holds Cox was treated unfairly, the other embracing change at the top.

Several names are circulating of possible managers to replace Lynch. None would be as welcomed by both sides of the divide as Panagiotakos .

Panagiotakos is everyone's pol, and he relishes that. As city manager , that could erode starting day one. That's why not everyone is buying into Panagiotakos ' alleged interest.

Panagiotakos is vehement: He's not interested. "Maybe five or six years from now, but not now." He repeated it several times.

As for Lynch, he's playing with house money. He's already passed six years on the job, an accomplishment particularly for a non-Lowellian.

"The clock starts ticking in this city on city managers at four to five years," said one pol. "Bernie's passed six."

The manager's contract doesn't expire until the Aug. 2014. But with controversies in several city departments and several councilors beating him up every Tuesday, folks are wondering how much more Lynch is willing to take.

But Lynch sounded confident at the Lowell Plan annual breakfast Thursday morning, boldly proclaiming the "city is in excellent health and the prognosis is even better."

Why leave? Lynch said he has no plans.
(bold mine)
I'm getting mixed signals from 'the word on the street.' I've got sources saying Pangi is beginning to get his ducks in a row, to make a move on the corner office. But others, in the know, say all is quite on that front. Palace intrigue can be agonizingly deceitful. :v\

Certainly, as the blurb above attests, Pangi is laying a crumb trail which leads towards the corner office. However, others will speculate that a cozy office over at Martyville is a much easier lifestyle. One free of the certain alienation that comes with the cleaver the City Manager must wield. Any hiring, contract negotiation or selection of a vendor cleaves friends from foe with every hack. Pangi, who holds a legendary status of 'friend to all,' can only gain enemies as he would run Lowell, forward or backwards, as the case may be.
My radar wasn't even pinging for Pangi until after the St. Patrick's Day Breakfast, last Friday. It wasn't unreasonable for the 'prominent Greek' to push back at Mayor Murphy's taunt. Though I did note Pangi's words were rather torrid.
"For him to use a symbol of our immigrant story as a prop in a perverse ploy for a cheap laugh is insulting and belittling to the Greek-American community," said former state Sen. Steven Panagiotakos. "There seems to be a pattern here of hostility to the Greek-American community.
Note:
Pericles is an ancient. Could someone clue me in as to what the circa 400BC Athenian has to do with 19th Century Greek immigrants, please?
Murphy had that coming. But then this:
Ex-Lowell senator go-to guy for sage advice on politics, budgets
From political campaigns to budget crises, Panagiotakos is go-to guy
Holy Rollout, Batman!
We know that the Blog of Record is adept at fawning over Pangi. It's rumored by 'observers' that Pangi Love is the only thing that Kendall Wallace and his stumpy compatriot, Campi, have in common. Be that as it may, today's pucker for Pangi is so complete, so total, that some wonder if it was authored by a reporter or by a professional PR guy. Is GLTHS's Mike McGovern auditioning for a new gig?
Now, some of you may argue that 'Saint Steven', as some of you call him behind his back, even needs a PR flack or any sort of a 'makeover.' I have to concede. Pangi negotiates the crooked, perilous politics of Lowell, fairly well. Or, as ally State Senator Eileen Donoghue astutely noted: "He covers both sides of the track, so to say."
You can say that again: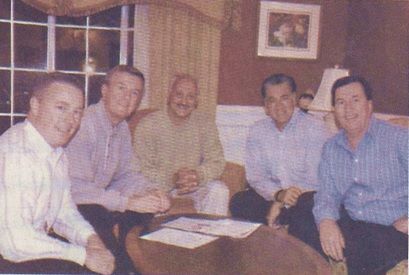 Knights of the Wrong Table
Ya! A good PR flack could come in handy, as Pangi gets things in order.
SJC probe: Probation Dept. rife with fraud
Lisa Redmond, 11/19/10 (Archived Online)
Sen. Steven Panagiotakos, who is retiring next month, is among the top 10 sponsors. However, only five of the 20 people he sponsored were hired or promoted.

"My career has been based on helping people," the Lowell Democrat said last night. "Whether it's finding employment or getting into school, finding housing or getting benefits, I've always looked at myself as a resource for those who ask. Those that I've recommended I believe in, and they were qualified for the job."
I'm not convinced, that what I have presented above is an omen, should Steve Panagiotakos become the next City Manager. Whether it be 5 months or 5 years from now. Folks at this level of politics are very coy, adept at keeping their minions waiting for an ill gotten promise, left unfulfilled. They know the art of the linger.
Should Pangi become City Manager, there will be no cover provided by the distance to Beacon Hill. Every move he makes will be watched, scrutinized. With ever the noise of the displeased, echoing in the granite echo chamber of City Hall. The honeymoon will quickly end, as bitter patrons squawk in the SAC and Longmeadow.
Olympus will fall.
PS. For those of you focused on the previous citation that stated: Panagiotakos is vehement: He's not interested. Let's harken back to the year 2007:
The Column, 2/4/07 (Archived Online)
THE REAL story always wins out. After weeks of denying that he was interested in the UMass Lowell chancellor's job, Rep. Marty Meehan finally fessed up last week, and was interviewed by the 21-member Search Committee on Friday.

The 50-year-old congressman handles the sharp focus of the press better than many pols, but in recent days he delivered his denials with atypical vehemence.
What is it about The Blog of Record's enchanment with the adjective: Vehement?
The lady doth protest too much, methinks. - Shakespeare
PPS. I think Pericles would beat Shakespeare arm wrestling, but more people regularly recite the Brit.