The "HEY! LOOK AT ME!!!!!" crowd is about to embark on a full blown grandstanding jamboree, I'm told. Gerry Nutter got wind of it and now it's blowing my way, too. We are in for a motion from Councilor Elliott, in the near future, proposing that a charter change be put on the ballot. You can count on Councilor Ditto to second Elliott's offering.
There is some history to this effort. From 1993:
(h/t Dick Howe, Jr.)
Question 2 - Do you support a change in the city charter to provide for an elected mayor as chief executive instead of an appointed city manager? Yes-10,0441. No-6,760.
That question was put on a city election ballot, as a non-binding resolution. But, it never went any further because after 5 Council incumbents were displaced, the appetite for upheaval diminished. (Funny how that works? Huh?)
Also, another question, that year, showed only a slight edge towards a desire to rid Lowell of Plan E.
Question 1 - Do you support keeping the present Plan E form of government? Yes-8,234. No-8,779.
Should anyone assert that Lowell, circa 1993, has any sort of 'mandate,' they should take a few data points into account.
As of a Jan.2013, Lowell Voter File (using rounded numbers); there is about 55,000 registered voters. Of those, only 18,800 have EVER voted in a City Election. Guess what? Of that 18,800, only 8,500 were registered to vote in 1993. That not much of a legacy to drive some bullshit "mandate." narrative Sorry.
But, hey! It never was about changing the Charter, anyways. This is all about Glory Hoggin'. Y'know? In a sad, sorta desperate, I need to scrape bottom for votes, sorta way. Oh, speaking about 'scraping bottom,' let's all not forget the "Voter ID" motion that C.Elliott was flaunting. Which, btw, he has withdrawn. Don't forget voter suppression, when the word manure about 'increasing public participation' is piled on to grow the rhetorical weeds used to confuse the discussion.
Charter change? Bring it! But, let's bring what Lowell wants. To include as many of the 106,000 Lowellians, as there is, yo.
I say, "Bring it!":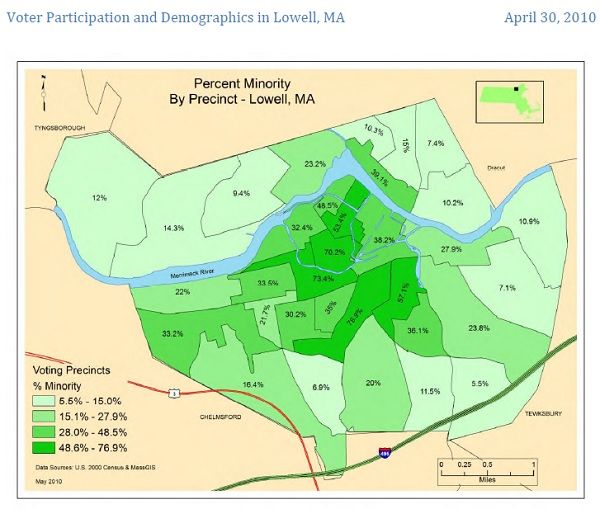 I say, "Bring it!" Because Democracy is a numbers game and I know the numbers. You lose. Most definitely in the long run, when your self indulged leaders move to Dracut & Chelmsford, leaving you high and dry with a mismanaged City and a 'Strong Mayor" whose name you can't pronounce.
I say, "Bring it!" Because, while you're looking backwards, the rest of us are looking forwards. And, as you already know in your gut, there are MORE OF US, than there are of you.
Bring IT!