I'm no lawyer, but this guy is: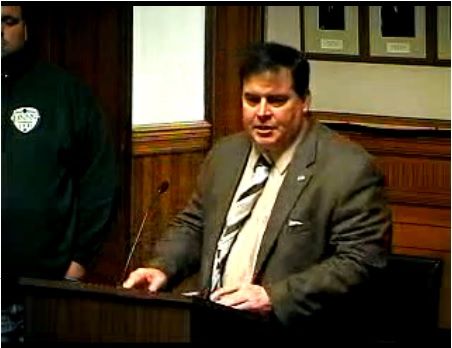 Last, night, that attorney appeared in City Hall before the License Commission.
Raymond Weicker, the former license commissioner, served as the attorney for Brian's Ivy Hall and Hayhurst. Weicker said he was "disgusted" the board decided to take action regarding the events on Dec. 21 because he said the club was not informed the board intended to take disciplinary action.
Watch the proceeding here: http://blip.tv/ltc-license-commission/episode-6542718
And by "former license commissioner," the Blog of Record means, as of August 16, 2012. We know this because Ray Weicker went out with a bang!
It is with a sense of both relief and regret that I have tendered my resignation, as requested by Manager Bernard F. Lynch. I feel that at this point in time, with only 7 months left on my appointment, our respective approaches, investment in and commitment to the City of Lowell are too divergent and incompatible.
Like I said, I'm no lawyer. It just looks fishy, that a former License Commissioner can represent clients in front of the same LC that s/he served. In Washington DC, we hear of Congresscritters becoming lobbyists, getting rich off the network they have built, capitalizing on whatever influence peddling they can get away with. Lowell isn't DC. I should hope that we would have some integrity.
So, I looked up the law that I think applies. As best as I can discern, it all comes down to this blurt: in connection with any particular matter [1] that is of concern to the municipality
"Particular matter," any judicial or other proceeding, application, submission, request for a ruling or other determination, contract, claim, controversy, charge, accusation, arrest, decision, determination, finding, but excluding enactment of general legislation by the general court and petitions of cities, towns, counties and districts for special laws related to their governmental organizations, powers, duties, finances and property. G.L. c. 268A, § 1(k).
If the tolerance for the sort of things is so giving, that Weicker can represent clients because he is tending to a specific complaint, never before the current LC? I will be flabbergasted. Especially, since rulings by the LC are often incremental, based on past behavior.
If Weicker can do this, good luck to him. His name in the City will take a hit. But, the checks cash all the same.
(more…)