After last Tuesday's debacle at the Safety Subcommittee Meeting, I've heard a variety of responses to C.Elliott's demeanor. Which, in my opinion, was nothing less than blatant contempt for the 'People's Work.' Those that safeguard Elliott, trying to buffer his insolence for his duty to act as a steward for our City, should be scolded, publicly.
I will not be a party to it. Hence, this diary is intended to simply call a spade a spade:
PUNK!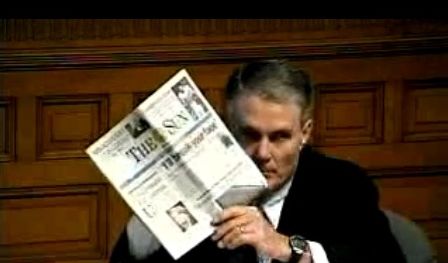 C.Elliott is in favor of changing Lowell's Charter, the Charter he took an oath to uphold in his tenure, from Plan E (Appointed City Manager) to Plan A (Strong Mayor.) That isn't a problem, so much. Elliott is entitled to his opinion, which he states freely and candidly when he runs for election. Good on him, on that limited note.
What Elliott is NOT at liberty to do, is subvert our governance, our routine, community business, by acting in a buffoonish, Fred Doyle-esque manner! He is NOT entitled to the opportunity to degrade the public trust in our means of governing.
We do not need what Sun parroting candidates like to term "rubber stamps." We don't need 'pro-Lynch stamps.' Nor, do we need 'anti-Lynch stamps.' C.Elliott is an embarrassing heap of insurrection. Jilted by his peers, by not being elected Mayor. Thus, bitter and poisonous to what happens in the sanctum of democracy that we call the Council Chambers.
On November 5th, fellow Lowellians, let's "PURGE THE PUNK!"
Update: h/t djglowell Important & pertinent stuff over on WCAP.
The Issue of Safety Lynch vs. Elliot

This morning we had on both City Manager Bernie Lynch and Council Member Rodney Elliot to discuss the issue of safety.